What we do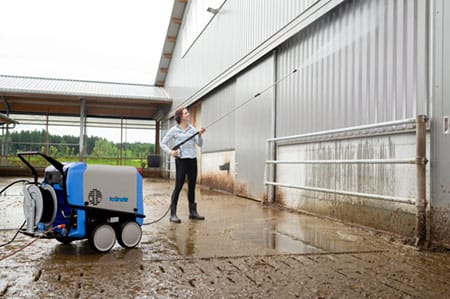 O'Sullivan Pumps & Pressure Washers is based in Millstreet town, Co. Cork. We've dedicated ourselves to providing our customers with high-quality products and the best service since 1980.
We offer single & multiple water pump solutions for domestic, agriculture, commercial and industrial use.
In addition, we'll install, repair, service and maintain your pumps.
We are also experts in the field of pressure washers. You can choose from a wide range of electric, PTO-driven, engine-driven and steam cleaners. They all come with a 12-month manufacturer's warranty. And we provide comprehensive service and repair options.
Our Story
Michael O'Sullivan and his wife Marian started O'Sullivan Pumps & Washers in their backyard in 1980. Michael is a qualified electrician and saw the potential for a business dedicated to the supply, installation and servicing of water pumps.
The business was a success from the start. Michael and Marian quickly built a loyal customer base among people who needed quality pumps for domestic, agricultural and commercial purposes.
The business soon started selling and servicing pressure washers as well.
Since 1980, the company has had to move premises four times to keep up with growing business and customer needs.
The business is now under new management with Michael's son-in-law Danny O'Riordan having taken over the reins.
Our Mission
From the very start, Michael and Marian decided they were going to build their business with one goal in mind:
To give customers excellent service and the best value possible
on top-quality products they can trust.
We've made it our mission to honour that goal.